If you've just purchased your Toll Brothers home, you can work through the design process and
develop a plan so that when you move in you'll be able to enjoy your beautifully landscaped
property immediately. And, since landscape design is an enhancement and an
investment in your new home, you may be able to build the cost into your financing!
Our Services Include:

Landscape Design
Your landscape design will be a seamless blend of functional spaces
and attractive changes creating a complete environment that
surrounds your home with beauty. We accomplish this using the
the most efficient and up-to-date design techniques, while providing
guidance through your township's approval process if needed.

Our experienced landscape designers will work with you to assess
your needs, goals, and budget and determine a plan for your new
home. They will create a customized landscape plan based on
your likes and dislikes that utilizes all the elements you favor
to create an outdoor environment that is uniquely yours.
Virtual 3D Design
See what your landscape will look like before we've even broken
ground. Our virtual 3D Design technology allows you to envision
the completed landscaped area from a 360-degree panoramic view.
You'll feel confident knowing in advance that the choices you've
made are the ones you'll be happiest with.
VIEW GALLERY
WATCH A VIDEO WALK-THROUGH
Custom Planting
We initiate an open dialogue between you and our landscape
designer to determine your tastes. We then select all the
plant material that is best suited for your personal
preferences, geographic location, and the individual
conditions of your property.

Patios, Steps, Walkways and Walls
Choose from a wide selection of materials that include pavers,
brick, and stone for functional enhancements that are both practical
and beautiful. Toll Landscape can help you design all the hardscape
elements on the outside of your home.
VIEW GALLERY

Custom Decks
Whether simple or elaborate, we can design and build a deck
to suit your lifestyle. Your custom-built deck could include a
screened-in gazebo, bar, hot tub, built-in barbecue, multi-level
entertainment areas, and more.
VIEW GALLERY
Outdoor Kitchens & Rooms
Bring the indoors outside with perfect entertaining spaces.
We can meet your outdoor living needs with our creative
design and wide selection of building products.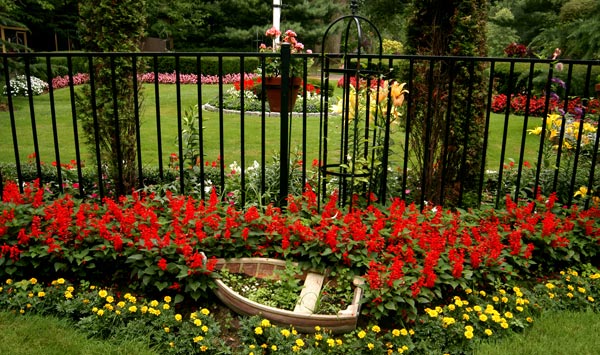 Landscape Fencing
Whether you choose fencing to provide privacy for your yard, to
accent your landscape, or to keep your children or pets safe at
play — we can offer you a huge selection of fencing options.

Lighting
Functional or decorative... elaborate or subdued... indirect or brilliant —
whatever your choose, we can provide you with a myriad of design
suggestions, including low-voltage LED landscape lighting, that
will complement your lifestyle and landscape.

Irrigation
We will analyze your plantings to determine the proper volume
and timing for watering, and design an automatic system to
provide just the right care for every area of your landscape.